Store
Funemployment Radio® Store:
Funemployment Radio Sweatshirt
SWEATSHIRT DETAILS:
SOLD OUT. Thank you so much to everyone who ordered! Estimated arrival date is December 4th, at which time we will email you all about pickup/shipping details. YOU GUYS ARE AWESOME!!!!
ROMANCING THE SPAMMER ALBUM
Pick up the epic tale of Chester and Anita in Romancing The Spammer now, at the iTunes store, for only 9.99! It includes 30 tracks, all the original letters and bonus material! (click on the picture now)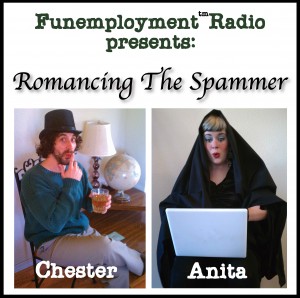 Shipping is included with all orders going to U.S. destinations. If you are in another country and would like to make a purchase, shoot us an e-mail and we'll set it all up.
---
****WINTER SPECIALS!!****
One T-Shirt, One Beer Koozie, One Sticker, One Button
All for only $20! Get yours while supplies last!
MEN'S SHIRT PACKAGE
WOMEN'S SHIRT PACKAGE
---
Men's T-Shirts
(Greg is wearing a Men's Medium)
---
Women's T-Shirts
(Sarah is wearing a Women's Large)
*If you would prefer a "Boy Cut" style of shirt, instead of a more form fitting Women's Cut, a Men's Small may be a good option.
TALL BOY (16 oz Can or Bottle) BEER KOOZIES:
A fantastic way to keep your beer cold and out of the hands of anyone wishing to claim it!
LOGO ON BOTH SIDES
(all prices include shipping to domestic US. Located outside of the US? Just shoot us an e-mail and we'll set it up!)
$5.00 (includes shipping)
MORE ITEMS ON THE WAY! Also, if you make or create unique merchandise that you think would fit well with us, please let us know! We're always interested in hearing new ideas for future items. Just send us an e-mail to info@funemploymentradio.com, with the subject: Merchandise. Thanks!