Funemployment Radio Episode 21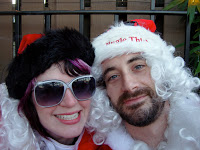 Good Monday to you all.
This weekend was a crazy one, and both of us lived it up! After having the scariest show ever on Friday, Sarah went out to a Winter Formal party, and then the following day we both went to Santacon! Much, much fun was had, and we have many a drunken video and photograph to show for it... and some pretty terrible karaoke that we decided would be a good idea after about 10 hours of drinking. Oops. Also today, we have a sad Ball Talk, and the Tiger Woods news keeps getting more and more ridiculous day by day, as he reportedly not only has 2 mistresses... but seven. Ah yes, the hits just keep on coming.
As always, thanks for listening! Also, if you have any karaoke (or other) suggestions feel free to email us at [email protected], or give us a call at 503.575.9120. Have a great night!
TECH NOTES:
SUBSCRIBE IN ITUNES


or, if you don't use iTunes, you will be able to subscribe, using this link:
RSS FEED
http://funemploymentradio.libsyn.com/rss
FUNEMPLOYMENT RADIO EPISODE 21:





DOWNLOAD EPISODE 21