Funemployment Radio Episode 26
Good Monday to you!
Man oh man, are we hung over from the Barfly Party last night, but good golly, it was a grand old time! We dragged our tired asses into the Nibler studios today and with scattered brains we began the show. Today we spoke about hangovers, Dexter (OH MY GOD THAT FINALE WAS RIDICULOUS), Santa, Strippers, our stripper alarm clock that looks like Nibler's roommate, Sarah's boyfriends ex-stripper girlfriend, Ball Talk, Entertainment News (which has become all-Tiger-Woods, all-the-time) and an assortment of all-around fun times.
Thanks for listening!
TECH NOTES:
SUBSCRIBE IN ITUNES


or, if you don't use iTunes, you will be able to subscribe, using this link:
RSS FEED
http://funemploymentradio.libsyn.com/rss
FUNEMPLOYMENT RADIO EPISODE 26:




DOWNLOAD EPISODE 26
Greg With Bedbug Bites and Pink Eye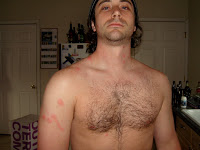 European Soccer Player, Peeing during the game.

EMBED-Goalie Jens Lehmann Pees during Game
- Watch more
free videos