Funemployment Radio Episode 32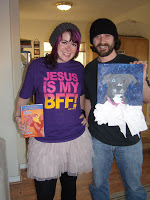 It was our holiday show!! and it was fantastical! you can tell because we're writing in all lower-case!
so, today we started off classing it up a bit and went to the liquor store (okay, not so classy) and bought some hot buttered rum mix and, well, rum, and headed back to casa de nibler for a rip-roaring christmas special! we started off by watching teen mom on MTV (still a shitshow), and then started the show by exchanging gifts. Nibman was the recipient of a painting of his dog Butters from sarah, and he gave her a bright purple shirt that says "Jesus is my BFF" and a book about beer. Quite classy. We also had a special guest in today to celebrate with, who regaled us with tales of drunken one-night stands - and tug-boating! Also during Ball Talk we revisited our bet for the OSU vs. BYU bowl game tonight (I guess it's Bowl Talk! ha! oh, i kill me), and Sarah had a special news section where it was all about crazy Christmas stories - and believe you me, there are some good ones.
We're off for the next few days, but when we won't be incessantly looking for jobs we'll be thinking of each and every one of you. Thank you for your support; have a great Christmas holiday!
www.funemploymentradio.blogspot.com
listen to Funemployment Radio!
www.funemploymentradio.com
Check out our sponsor at: www.taborspace.org
TECH NOTES:
SUBSCRIBE IN ITUNES: THIS HELPS US OUT A LOT, IF YOU USE ITUNES TO LISTEN


or, if you don't use iTunes, you will be able to subscribe, using this link:
RSS FEED
http://funemploymentradio.libsyn.com/rss
FUNEMPLOYMENT RADIO™ EPISODE 32:







DOWNLOAD EPISODE 32