Funemployment Radio Episode 33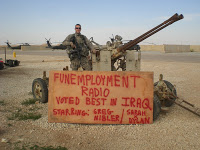 (Jason Johnson, Listening From Iraq)
...and we're back!
Today was an awesome show, we are both stoked to be back in the studio (spare bedroom) recording again, and we both had many tales to tell of our Christmas experiences. First and foremost though, the highlight of the day was the fact that Nibman had to doll up in WSU gear for the show since he lost a bet over OSU. It was GLORIOUS! We also had a new Ball Talk, and news about a celebrity being physically escorted off a plane for heckling children - really. Also, Charlie Sheen is back in jail, and a chick saw an image of Jesus imprinted in a very strange place.
Speaking of Jesus, we have a Jesus-themed karaoke song, and we also have video up on the website as well of Nibler becoming a Wazzu fan.
Thanks for listening!
listen to Funemployment Radio!
www.funemploymentradio.com
Check out our sponsor at: www.taborspace.org
TECH NOTES:
SUBSCRIBE IN ITUNES: THIS HELPS US OUT A LOT, IF YOU USE ITUNES TO LISTEN


or, if you don't use iTunes, you will be able to subscribe, using this link:
RSS FEED
http://funemploymentradio.libsyn.com/rss
FUNEMPLOYMENT RADIO™ EPISODE 33:







DOWNLOAD EPISODE 33
ADDITIONAL SHOW STUFF:
Greg Pays Up For The Bet: