Funemployment Radio Episode 35
It's the day before New Years, and it was insanity.
Today we talked about all of our fun in the snow (Sarah made her first snowman in 15 years), and we also discussed dating someone with whom you have a big age gap with. Also, we had, in studio, famous comedian and actor Barry Sobel, who talked to us about being on Johnny Carson, writing for SNL, and all of his stints being on tv (21 Jump Street, Family Ties) and in movies (Revenge of the Nerds II, Doc Hollywood, Punchline). He's also going to be performing tomorrow night at the Bagdad Theater, so if you're looking for something fun to do head to 37th and Hawthorne at 10PM for a hilarious night. Oh, and we also had a new ball talk (Tiger Woods is in rehab... and not the kind you might think) and Entertainment News was a bit, well, stabby.
Thank you for listening! We'll be back tomorrow with our last show of the year, and it's shaping up to be an amazing one!
listen to Funemployment Radio!
www.funemploymentradio.com
SEE BARRY SOBEL, LIVE AT THE BAGDAD THEATER, TOMORROW NIGHT!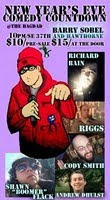 TECH NOTES:
SUBSCRIBE IN ITUNES: THIS HELPS US OUT A LOT, IF YOU USE ITUNES TO LISTEN


or, if you don't use iTunes, you will be able to subscribe, using this link:
RSS FEED
http://funemploymentradio.libsyn.com/rss
FUNEMPLOYMENT RADIO™ EPISODE 35:







DOWNLOAD EPISODE 35
ADDITIONAL SHOW STUFF:
Barry Sobel's Youtube Page:
Random Videos from the Funemployment Radio Studios:
Check out Barry Sobel in Family Ties! He is on at about 4 minutes in.....