Funemployment Radio Episode 981
Today: Greg and his fancy shmancy table-reading/acting gig for a TV series, how to approach people at clubs, Aaron Duran, Orycon and what it is, dog fetching a leg, cheeseburgers for sandals, a horrible act of performance art, and Larry & Stacie Overman in-studio talking about their show Ghost Mine, charities they work with, how they met and more - thanks for listening!
Larry & Stacie!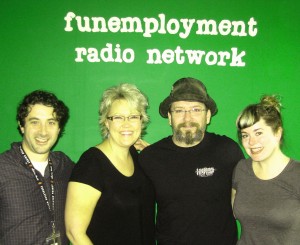 Limited-edition zip-up FER hoodies, get one now!