Funemployment Radio Episode 1047
Today: We got our hats in today for the listener party!! Also: Kenny B is going to MC (oh dear), Sarah found a strange note in the hallway of her apartment building, Maison Blanche, Squatch Watch, rubber ducking, girl who is allergic to water, how are you allergic to water, sausages full of secrets and more - thanks for listening! Two Days!
Sarah wearing the new FER beanie!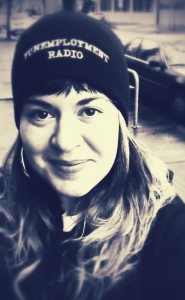 Troy's letter in the hallway