Funemployment Radio Episode 1071
Today: What the heck are funeral potatoes?, I just googled myself, OPERATION: HOT SUMMER, working out to YouTube videos, Greg's list and Deuce Bigalow, paid not to play, Kim Jong Un haircut rule, brain beer, Superman arrested, DJ assault and more - have a great day!
So it begins: Operation: Hot Summer!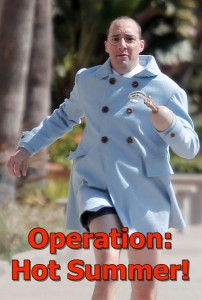 ...or this? Feel free to send your own!