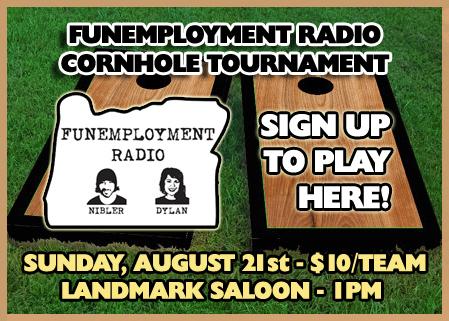 FER CORNHOLE TOURNAMENT
AUGUST 21st
NOTE: DUE TO HIGH HEAT PREDICTED FOR THIS WEEKEND, WE HAVE CANCELLED THE TOURNAMENT PREVIOUSLY SCHEDULED FOR AUGUST 21ST. MORE DETAILS WILL BE POSTED HERE ASAP. THANKS!!
With the Brewer's Cup Finale coming up on September 18th, we thought now would be a nice time to have an "inbetween" Tournament! All winners from the 3 qualifying Brewer's Cup Tournaments are allowed to play in this one. YOU can enter for the chance to win an array of prizes, including - but not limited to - CASH MONEY!
QUICK FACTS FOR TOURNAMENT
Date: August 21st
Time: Sign-in at Noon, Tournament starts at 1pm
Location: Landmark Saloon
Prizes: 1st - $75, 2nd - $50, 3rd - $25
Entry Fee: $10 per team
Team size: 2 People per team
BONUS GAMES: EVEN IF YOU DON'T PLAY IN THE TOURNAMENT, THERE WILL BE SIDE GAMES!
Cornhole Rules:
Basic Cornhole Rules will be used, and we will go over the rules, so even if you haven't played before you can enter (they're very easy)!  
Tournament Style: This will be a 24-team Best-two-out-of-three Tournament*.
*The first 21 teams eliminated will be given a raffle ticket.  A drawing will be held once the final 3 teams have been decided to determine the 4th team for the Tournament Finals. This means one of the previously-eliminated 21 teams will be inserted back into the Tournament and will be allowed to compete for the final prizes.
Sign-in on Day-of:  All teams must sign-in, on-site between 12:00pm and 12:45pm. Tournament begins promptly at 1pm. After 12:45, your team will forfeit the Tournament and a replacement team will enter.
Registration: Register your team at the bottom of this page, 1st come, 1st serve. If we are late and the spots are filled, follow directions given, to register as a Backup Team, in case a team drops out. All registrations are non-refundable.
TO REGISTER, SCROLL TO BOTTOM OF THIS PAGE
THE FUNEMPLOYMENT RADIO CORNHOLE TOURNAMENT details:
Once we open registration, the sign-ups are first come, first serve. The cost to participate is $10/per team of two, and you can only sign up for one team per Tournament. The $10 entrance fee ($5 per person) will include a gift bag with swag from the sponsoring Breweries, Funemployment Radio merch, and more - plus, with that entry fee you are entered to win a cash prize! 1st PLACE - $75, 2nd Place - $50, 3rd Place - $25 ! 
After you are eliminated from the Day's Tournament, you will receive a raffle ticket. After we reach the final 3 teams, we will call one final team to receive automatic entry into the final 4 teams for that day!