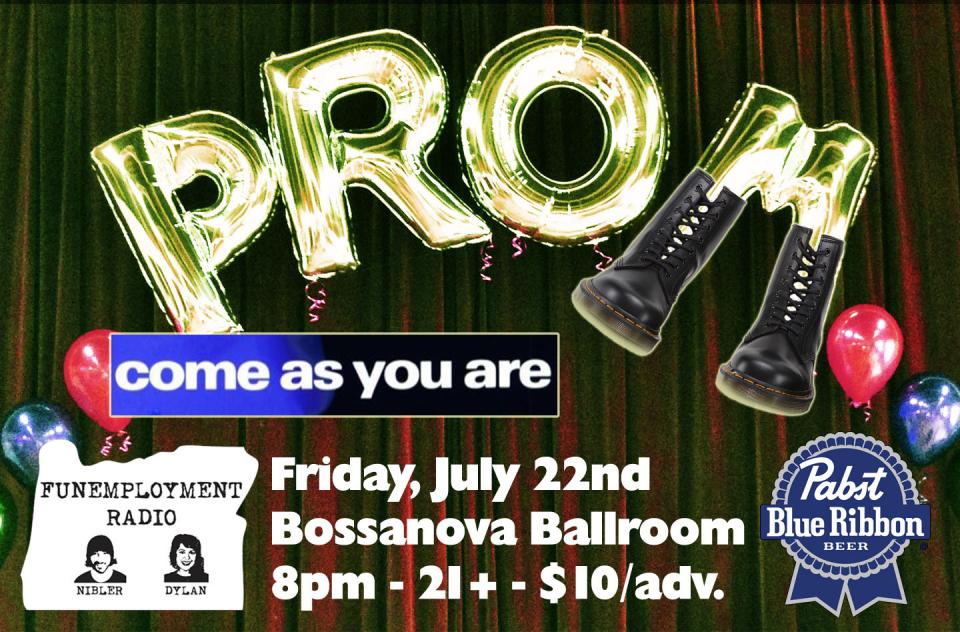 [[{"attributes":{},"fields":{}}]]
We are so very excited to be hosting our first ever Funemployment Radio Prom presented by Pabst Blue Ribbon! The theme for the festivities is Come As You Are - which is going to be a 90s Prom theme, but also means that you can dress however the hell you'd like to. Want to be a mermaid? Perfect! Dreamed of being a puffy-dressed princess? You got it. Shorts and flip-flops? You do you! Whatever you want this night to be, this is for you. We want this to be an incredible night for the most wonderful people we know (spoiler alert: that's you!) Expect a night of drinks, dancing, prizes, special events, and more!
No Dress Code enforced, No "Date" required.
Prom night is happening on Friday, July 22nd at Bossanova Ballroom (722 E. Burnside)
Doors at 7:30pm
Tickets are $10 in advance / $15 at the door
Portion of procceds will go to Returning Veterans Project
Will you go to Prom with us?
xoxo
Sarah (and Greg)
TICKET PURCHASES WILL PUT YOU ON THE GUEST LIST UNDER THE PURCHASERS NAME, WITH A "PLUS" HOWEVER MANY ADDITIONAL TICKETS. NO PHYSICAL TICKET REQUIRED. QUESTIONS; JUST WRITE US AT [email protected]