Past Episodes: February 2011
Today's show: What's eating gilbert grape on the bus, water aerobics, noodling, awkward porn, pee etiquette, pig-face manboy, Ray Gordon! (www.raygordon.com), Jamaica experience, Buck Hunter, video games, stripping, crazy in the air, ball talk, Blazers win!, not-sore losers, Fatheads, copping cops balls, no cheerleaders, and go see Ray's show tomorrow 4pm -9:30pm at Weiden/Kennedy (13th and NW Davis)! Cheers!
Ray's amazing sailor tattoo: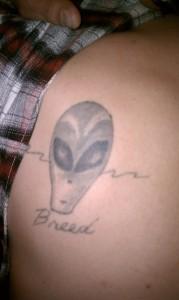 Today's show: magic show, Egypt, 90210, weather (really), water aerobics, Blazer Game, ball talk, big game, Cleveland, Superbowl, Porn Sunday, WoW, WoC, faces in butts, semen yogurt, door pee-ing, Heidi the oppossum, and Azeroth. Thanks for listening!
Pages