We are so excited to announce a brand new way that you can support Funemployment Radio - become a part of the Funemployment Radio Supporters Club (FERSC)! This is an added level of support that helps us out, and allows you to be part of a group of like-minded rad folks that get added benefits, including a special pin for your membership, PLUS you can get extra mini-podcasts that we'll be recording, along with special shows ONLY for FERSC members!
(Also, if you are already a CURRENT subscriber - congratulations, you're automatically in! Send us an email with your address and your pin will be on it's way, plus get ready for more exclusive content on top of what you already get! Hot dog! You're the bestest!)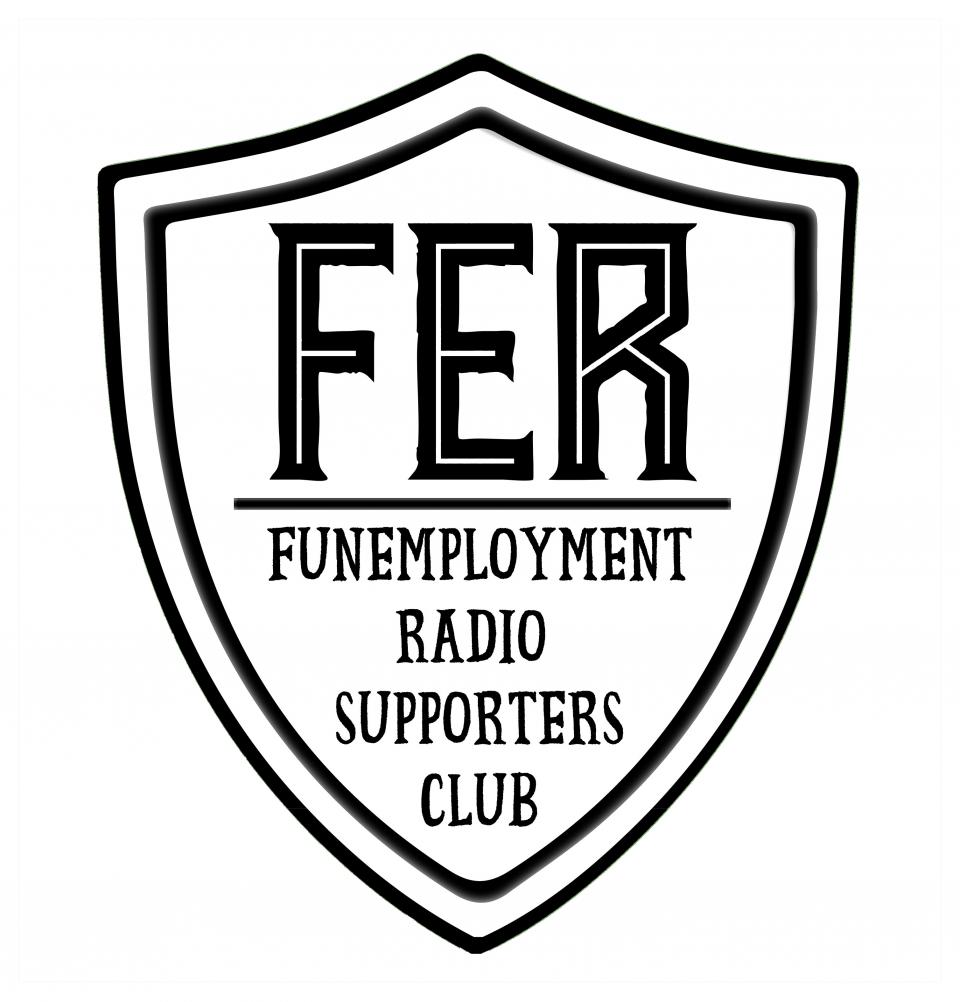 For $6.99 a month, or $80.00 for a full year, you get ALL of the following;
-The limited-edition FERSC Member's enamel pin!
Yes, you will receive this beautiful limited-run pin upon purchase of a One Year Membership, or 3 consecutive months payment in a Monthly Membership to the FERSC. Wear it proudly and know that YOU are actively supporting a small business & are appreciated every single day :)
-Access to the 24 hour Livestream of the Funemployment Radio Network!
There are live shows airing every weekday on the Funemployment Radio Network. You'll also get exclusive airings of current and former FER Network Shows before they are available anywhere else! Shows such as Geek In The City, Rip City Bad Boys, The Well-Adjusted Gamer, Guys and Balls, Portland At The Movies, The Mark and Toddcast, classic episodes of The Nibler Show and more!
-Access to the Live Chat.
This is a FERSC favorite, as you get to chat along with other Members during live broadcasts. Can't listen live but want to read the chat as you listen? Just scroll back and read the comments in the archive as you listen!
-Access to the Exclusive Archive.
There are hours of back episodes, audio, photos and videos that are available only to FERSC Members. Also we will be adding more video content that will be exclusive to FERSC members (and we are so excited)!
-Access to FER Off The Record.
This is a NEW SHOW that will air twice a week, with the podcast version only available in the Exclusive Archive! It's going to be an additional mini-episode a couple of times a week that we'll record ONLY for FERSC members.
-Access to watch a live recording of an episode of Funemployment Radio at the FER Studio!
You'll basically get a private screening of a live recording of Funemployment Radio. Available only to Year Subscription Members.
-The knowledge that you are supporting some incredible shows.
It takes a lot to keep the lights on, pay for podcast fees, equipment, set up events, stay alive, etc. Your payment will help SUBSTANTIALLY in making sure you have all of the entertainment that you are used to. It's support from friends like you that keep us going, and we are so grateful for you!
Subscribing to the Funemployment Radio Network is easy; all that you need to do is click the button above; you can use PayPal or the credit card of your choice. (You'll have a free, one-week trial period, during which you can cancel at any time.) If you prefer to pay via check, or another way, please let us know at bi[email protected] and we'll set something up for you.
Thank you so much, we look forward to entertaining you and we are forever grateful for your support!
We love you!
Greg and Sarah